Announcing!
Nautic Air

Pure, Clean Air for Boats and Yachts
Boats are usually sealed up tight and often sit for days or weeks at a time without any air movement. Humidity can build and become the perfect environment for molds, mildews, and dust mites. When the a/c system is running, it simply moves air around the boat so guests are exposed to anything circulating in the air. Those stale, musty smells or harsh chemical odors that lurk in your cabins are more than just unpleasant – they are also quite harmful.Boat, yacht, and charter boat owners recognize that their families and guests are concerned about the safety of the air they breathe. Especially with boats traveling in and out of ports throughout the world, clean air can help protect both guests and crew from exposure to viral and bacterial infections through shared air. For allergies, odors, or harmful organisms – nautic air is the solution for 99.7% pure, safe air!
Davidson's Marine Service is pleased to announce that we are now dealers for Nautic Air. Please give us a call to find out more on the newest air purification systems for your yacht or sailboat.
Click here for the Nautic Air site!
Click here for Nautic Air Brochure
Davidson's Marine Service, Inc.
(904) 284-7311
422 Walnut Street
Green Cove Springs, FL 32043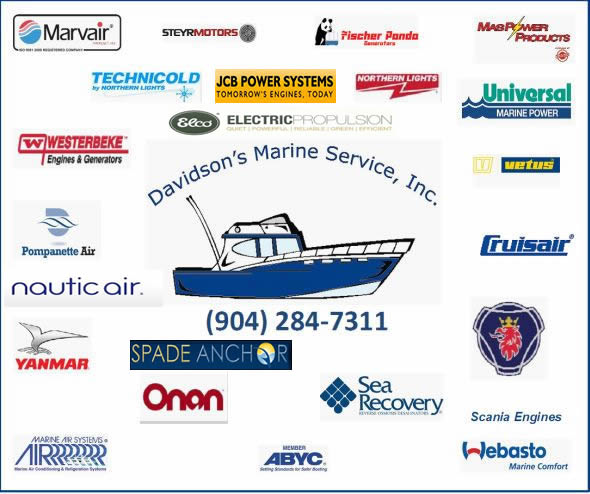 Service locations for mobile diesel repair include the following locations: Jacksonville, Ponte Vedra, Jeckyl Island, St. Simons Island, Fernandina, Amelia Island, Ormond Beach, Daytona, Daytona Beach, Port Orange, New Smyrna Beach, Titusville, Merrit Island, Cocao Beach, Satellite Beach, Melbourne, Sanford, Palatka, Fruit Cove, Julington Creek, Mayport, Savannah, Palm Coast and St. Augustine.