You Choose!  Side-Power offers two complete ranges of DC thrusters. Speed controlled thrusters (SEP) offer proportional control for DC thrusters. This provides your customers the ability to use just the right amount of power for their docking needs. It's a great feature and only available from Side-Power. Side- Power's ON/OFF range of DC thrusters has the largest choice of bow and stern thrusters including ignition protected (IP) and retractable units. Side-Power has the right thruster for your customer.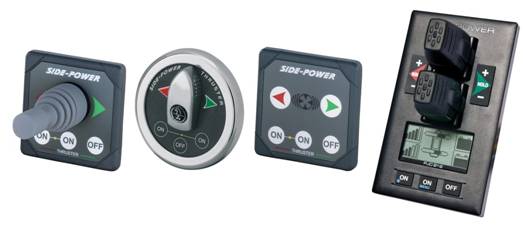 The program is simple, select a thruster that fits your customer's needs and Imtra will supply the controller for free.  If you need assistance in selecting a thruster, please give us a call at
(508) 995-7000 and one of our experts will help you select the best thruster for your customer.
Thruster Type

Control Type-Joystick

Control Type-Touch Panel

On/Off (Bow or Stern)

SM8960G (Joystick)

SM8965 (Boat panel)

SM8950G (Touch-Square) SM8955G (Touch-Round)

On/Off (Bow and Stern)

SM8940G (Dual Joystick) SM8909C (Docking Control Panel)

N/A

Proportional (Bow or Stern)

SMPJC211 (Single Joystick)

N/A

Proportional (Bow and Stern)

SMPJC212 (Dual Joystick)

N/A
For more information about any Imtra product, including manuals and parts, please visit our website at

www.imtra.com

. We encourage feedback on our programs and promotions.  If you have thoughts on ways we can help you sell and install more systems, please contact me directly.
Terms & Conditions
·

        

Program Dates: Feb 14 through May 17, 2013
·

        

All orders must be shipped immediately
·

        

Shipping: FOB, New Bedford, MA
·

        

Additional controls may be purchased at 50% off trade price
·

        

Radio remotes are not included